Chairmen & International Advisory Board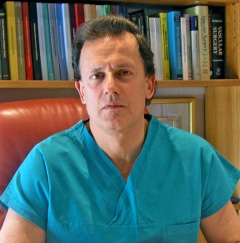 Professor of Vascular Surgery
Head of Vascular Surgery Division, San Raffaele Scientific Institute
Biography
Born on October 27, 1949 in Milan
Degree in Medicine and Surgery at Milan University in 1974
Specialization in General Surgery at Milan University in 1979
Specialization in Vascular Surgery at Milan University in 1984
Specialization in Cardiac Surgery at Siena University in 1992
Curriculum
From 1983-1986 he attended, as "Assistant Etranger", the Claude Bernard University in Lyon (Hôpital Edouard-Herriot, France) carrying out specialization and research activities regarding abdominal and peripheral vascular surgery and kidney and pancreas transplants.
From 1986-1987 he attended the Thoracic and Cardiac Surgical Unit (Harefield Hospital-Harefield, Middlesex, United Kingdom) to increase experience in surgery of the thoracic-abdominal aorta and in cardiac surgery (heart transplants).
Since 1995 he has regularly attended the Baylor College of Medicine/ The Methodist Hospital – Houston, Texas headed by Professor Joseph S. Coselli to increase experience in the surgery of thoracic-abdominal aneurisms.
Member of the most prestigious Italian and International Vascular Surgery Societies.
Author of more than 500 scientific papers in Italian and international journals; lecturer on matters concerning vascular surgery at more than 350 international congresses.
Scientific coordinator of the Vascular Update Journal which concerns the regular updating of international literature in the fields of Vascular and Endo-vascular Surgery.
Research Areas
Currently involved in the sector concerning the problems of surgery in the thoracic abdominal aorta region. His skills in this sector have led to him being called to be a member of the Committee to Define the Guidelines for Thoracic-Abdominal Surgery of the Aorta of the Italian Society of Vascular Surgery (SICVE). The guidelines are the national benchmark for this type of therapy.
Another research area where he is involved is that concerning the treatment of extra-cranial carotid lesions, where he has closely examined numerous problems including cerebral protection while carotid clamping during a TEA carotid intervention, the role of the Trans-cranial Doppler and the EEG as neurological monitoring, the use of local-regional anaesthetics, the confrontation of different surgical techniques (Carotid Endarterectomy for eversion compared with standard Carotid Endarterectomy: the Everest Study).
In recent times, the advent of endovascular techniques has radically modified the approach to aortic disease. Prof. Chiesa is leader in the clinical testing of new devices for aortic pathologies endovascular treatment, concerning both the abdomen and the thorax, and for the hybrid treatment of the aortic arch disease and of the thoraco-abdominal pathology. Chiesa is also coordinator of the SAFROS project (Patients Safety in Robotic Surgery) and of the BIOvART project for transplant in human of an engineered aorta not requiring immunosuppression.
Associate Professor of Vascular Surgery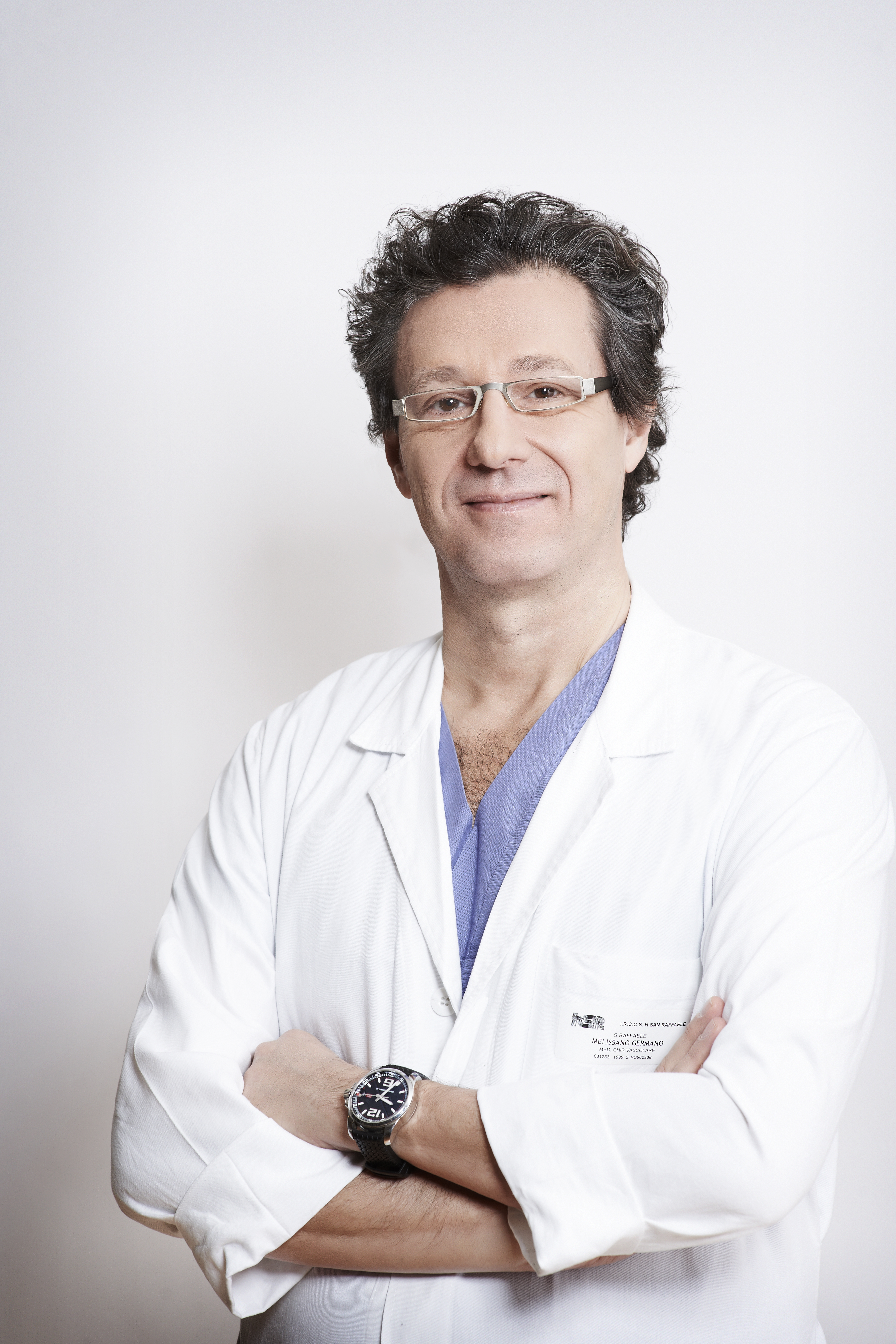 Senior Surgeon, Vice-Chief of Division Vascular Surgery
Ospedale San Raffaele, Milano – ITALY
Education / training
| | | | |
| --- | --- | --- | --- |
| INSTITUTION AND LOCATION | DEGREE | YEAR(s) | FIELD OF STUDY |
| Collegio AIla Querce, Florence | B.A. | 1982 | Humanities |
| Florence University, Florence | M.D. | 1988 | Medicine |
| Milan University, Milan | B.C. | 1993 | General Surgery |
| Milan University, Milan | B.C. | 1999 | Vascular Surgery |
A. Positions and Honors
Positions and Employment
1984 Intern – Dept. Cardiothoracic Surgery, Florence, Italy
1988 Surgical Resident – Dept. Thoracic and Cardiovascular Surgery, H. San Raffaele, Milan, Italy
1994 Junior Staff Surgeon – Dept. Vascular Surgery, H. San Raffaele, Milan, Italy
1996 Senior Staff Surgeon – Dept. Vascular Surgery, H. San Raffaele, Milan, Italy
1998 Vice-Chief – Dept. Vascular Surgery, H. San Raffaele, Milan, Italy
1994–2006 Organizer and Scientific Director of 15 Courses of Surgical Techniques concerning: Anastomotic techniques and peripheral revascularizations, Carotid surgery, Abdominal Aortic Surgery; that were held in Milan, Siena (Italy) and Salvador Bahia (Brazil).
2004-2012 Organizer and Scientific Director of 5 editions of the international congress "Aortic Surgery: How to do it" held in Milano with the participation of more than 1000 delegates in each edition.
2001-2012 Teacher and Secretary of the 5 years Residency Program in Vascular Surgery of San Raffaele University. Teaches also in other surgical residency programs of the same University.
2005-2012 Co-Director of the Postgraduate Master Course in Aortic Surgery of San Raffaele University.
2005-2012 Teaches the course "Endovascular surgery: mini-invasive future of vascular surgery" at San Raffaele University School of Medicine.
Honors and Awards
1992 "Young Vascular Surgeons' Award" European Forum of Young Vascular Surgeons – Berlin
1992 "Award for Best Presentation" 9th Congress of the M.E. DeBakey International Surgical Society
1997 "Convidado Estrangeiro" Angiologia e Cirurgia Vascular – Curitiba- Parana – Brazil
2002 "Consultant" of the Cardio-Thoracic Center of Monaco – Montecarlo
2007 "Lecturer" Siriraj University Hospital, Bangkok, Thailand
2009 "Distinguished Visiting Professor" Stanford University Palo Alto – CA
2011 "Presidential Guest Lecturer" Western Society for Vascular Surgery, Kawai, – HI
2012 "Guest Lecturer" Japanese Society for Vascular Surgery, Nagano, Japan
1992 Guest of the Baylor College of Medicine, Houston, TX, USA (Prof. J.S. Coselli)
1993 Guest of the Kanton Spital, Luzern, CH (Prof. J. Largiadère)
1994 Guest of the Baylor College of Medicine, Houston, TX, USA (Prof. J.S. Coselli)
1998 Guest of the Städtische Kliniken Frankfurt am Main – Höchst, D (Prof. W.J. Stelter}
1999 Guest of the Baylor College of Medicine, Houston, TX, USA (Prof. J.S. Coselli)
2004 Guest of the Cleveland Clinic, Cleveland, OH, USA (Prof. R. Greenberg)
Affiliations
Society for Vascular Surgery (SVS), European Society for Vascular Surgery (ESVS), International Society for Cardiovascular Surgery (ISCVS), Michael E. DeBakey International Surgical Society, Francophone Society for Vascular Surgery (SCV), Italian Society for Vascular and Endovascular surgery (SICVE).
Member of the Editorial Board of the European Journal of Vascular and Endovascular Surgery (EJVES) and of the World Journal of Cardiology (WJC).
Reviewer for JEVT, JVIR, EJVES and several other Journals.
Other Qualifications
1978 "Proficiency Certificate in spoken English "Trinity College – London – UK
1981 "Certificate of Proficiency in English" University of Cambridge – UK
1988 "Foreign Medical Graduate Examination in the Medical Sciences" FMGEMS (Basic Medical
Science, Clinical Science, ECFMG English Test).
2001 "European Board of Vascular Surgery" – Luzern – Switzerland
C. Publications (Author Impact Analysis)
Papers: 191 Cites/paper: 11.52 h-index: 23 AWCR: 241.65
Citations: 2200 Cites/author: 534.52 g-index: 43 AW-index: 15.55
Years: 24 Papers/aut: 49.73 hc-index: 16 AWCRpA: 60.12
Cites/year: 91.67 Auth/paper: 4.06 hI-index: 5.19 e-index: 31.84
Books, Book Chapters and Presentations
Co-Author or Editor of 12 books, 52 book chapters, 312 scientific papers (191 peer reviewed and indexed). Over 200 papers presented at national or international congresses or symposia. H-Index = 27
D. Research Support.
Principal Investigator or Co-Investigator in several National and International Trials and research projects including the international pivotal trial for FDA approval of one of the leading thoracic stent grafts.
Alessandro Castiglioni, Milano – Italy
Laurent Chiche, Paris – France
Mohamed Hosny, Cairo – Egypt
Michael J.H.M. Jacobs, Maastricht – The Netherlands
Heinz Jakob, Essen – Germany
Tilo Kölbel, Hamburg – Germany
Armando C. Lobato, São Paulo – Brazil
Armando Mansilha, Porto – Portugal
Vicente Riambau, Barcelona – Spain
Andrej Schmidt, Leipzig – Germany
Frank J. Veith, New York City NY – USA
Alberto Zangrillo, Milano – Italy